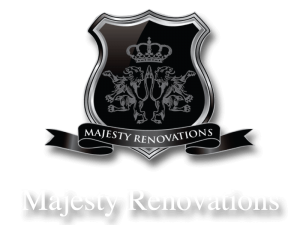 Leading Bathroom & Kitchen Specialists
Home renovation services to the Western GTA. Serving Etobicoke and the Peel & Halton Regions.
Dedicated to Exceed Our Customers' Expectations.
Majesty Renovations is a small renovation business serving the GTA since 1988. We design and build, custom bathrooms and kitchens. We pride ourselves on high-quality workmanship at reasonable prices. We work closely with our customers' to ensure their dream Bathroom or Kitchen is realized Greg Rudland, Owner and Operator will personally oversee your project, while completing much of the highly skilled labour required to achieve our high standards.
Let's get started! Contact us for a free quote on your next home improvement project.
Majesty Renovations Projects
Greg will personally overall all aspects of your project. He will help you design your dream bathroom.

Majesty Renovations can help you plan, design and install your kitchen project.

We don't just bring outstanding bathrooms & kitchens to the table. We also do custom projects.
Our Testimonials
"I would highly recommend Majesty Renovations to anyone looking to have work done on their bathroom and we are planning to contact Greg again when it is time for our kitchen renovation!"

- Brett, Oakville

"Love my new bathroom and the flooring is so warm and beautiful. He came to fix some minor issues very quick. What would I change? Next time I'd take him with me to buy all my fixtures. I stressed way too much over them."

- Client, Mississauga

"Greg and Dan recently renovated my bathroom and I am thrilled with the result. Their suggestions were thoughtful and the finishing amazing and even more appreciated, made sure what was behind the walls was sound!"

- Kim, Mississauga

"Great attention to detail and great finish. Project was delivered on time with superb quality. No doubt that we will use the same company for any future renovations."

- Natasha, Oakville

"Greg and Majesty Renovations renovated my kitchen this year and I couldn't be happier with the result. The work is clean, detailed and very high quality."